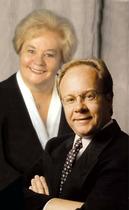 Donald Kolessar, JrNorth Hills Regional
"Committed to Quality Service from beginning to end!"

Marge and Don Kolessar, life long residents of the North Hills, have been 
professionally serving the North Hills, Cranberry and surrounding areas in 
Pittsburgh for the past 41+ years! Let their full-time award winning services help you achieve your Real Estate goals!
Life Member of Realtors Association Of Metropolitan Pittsburgh *
Member Of National Association Of Realtors *
President's Circle * Leading Edge * Honor Society * Andron Epiphanon Fraternity *
Relocation Certifications through Brookfield Global Relocation Services: gCertifiedsm * Marketing Assistance * Destination Services * Performance Expectations *
Five Star Professional Real Estate Agent 2013, 2014, 2016, 2017, 2018
2017/2018 AWARDS: * Million Dollar A Month Club * "Residential Listing Leader In Volume" * "Residential Sales Leader In Volume" * Andron Epiphanon Fraternity *
Full Time Professional Services: SELLER REPRESENTATION (To exclusively List & Market your home for sale!) * BUYER AGENCY (Exclusive representation to help you find & purchase real estate) * RELOCATION (Experienced and certified in various relocation programs which oversee the arrival and departure of transferees.) * NEW CONSTRUCTION (All phases... lot selection thru occupancy!) * PLANNING (To explore and design a plan of action for your future needs!) *
WHAT ARE YOUR NEEDS? * Are you looking to sell? * Do you want to purchase? * Are you looking to do both? * Are you looking to expand or downsize or build new? * Is this your 1st time at either Selling or Buying? * Do you want to meet with a real estate professional & develop a plan of action to sell or purchase in the future? * We can help and offer those services! * Do you know someone who could use our services? *
Over the years, Marge and Don have listed and sold single family homes, townhomes and condominiums and negotiated new construction contracts throughout a variety of communities in Allegheny, Butler and Beaver as well as Washington and Westmoreland Counties. What are your areas of interest? *
Marge and Don invite you to call today and discuss your particular interests. Marge can be reached at 412-496-7717 and Don at 412-496-7719. If you prefer to text or e-mail, please do so. For e-mail, please send to: donkolessar@thepreferredrealty.com. We look forward to hearing from you and helping you to successfully Sell or Buy! * Visit our website at: www.donandmargekolessar.com
Certifications
Relocation Certification
New Construction Specialist
Buyer Agency
E-Certified
Associate Broker
Certified Residential Specialist
President's Circle
Leading Edge
Broker Appraiser
Honor Society
QSC (Quality Service Certification)
Preferred Masters Accreditation
Contact Donald